Professional 3D Glasses

3D Anaglyph Glasses - Stereo Imaging In a Whole New Light!

Proview™ Professional quality 3D Glasses offer an exciting breakthrough in affordable visual enhancement for the cyber world. Use them to: Surf the Net...Develop Your Own Anaglyph 3D Images...Explore New Depth-Defying Worlds!
• No Special Plug-Ins
• No Complicated Programming



Smart Design:

•
Optical quality, cast acrylic lenses tinted to exacting color standards.

Unbreakable, flexible, nylon frames fit over most regular frames with corrective lenses.






Proview Clip-Ons now available in a handy flip-up style that fits over most corrective lenses.






•





Internet Ready:

Lenses chromatically tuned to phosphors in computer screens to virtually eliminate ghost images and other annoying visual distortions.



Multiple Uses:

• 3D Hobbyists and Enthusiasts - Create your own 3D graphics. View 3-D websites, animated cartoons and comics. Excellent for anaglyph 3D art already in print.

• Graphic Designers - Produce dynamic 3-D logos, advertisements and promotions using popular photo editing, drawing, painting and 3D modeling software.

• Game Developers and Software Programmers - Add anaglyph 3D effects for enhanced realism. Shift planes of visual information in and out to create extraordinary depth.

• Scientists and Researchers - View your data in a dramatically, more realistic fashion...everything from simulations and medical imaging to CAD and molecular 3D modeling.
Rainbow Symphony's PROVIEW™ Professional 3-D Glasses work with any browser and any platform. They're specially designed for hassle-free computer viewing that's beyond anything you've seen before...you'll hardly believe your eyes! Have fun exploring our 3D Gallery. Welcome to the world of Anaglyph 3D Imaging.
Stock Design available for order below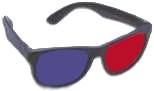 Stock Design available for order below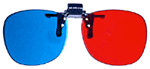 3D Glasses Direct
A Division of Rainbow Symphony Inc.
6860 Canby Ave.
Suite 120
Reseda, California
91335
Toll Free Number: 800-821-5122
Phone: 818-708-8400
Fax: 818-708-8470
Thank You for Visiting 3D GLASSES DIRECT